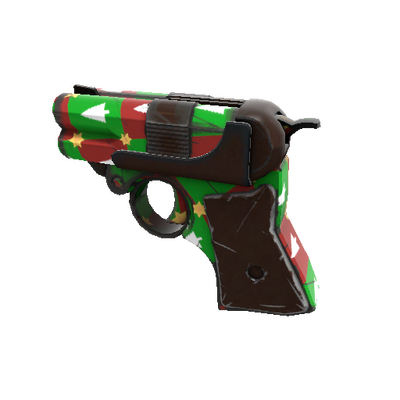 Place a request
Item is missing on the STEAM marketplace.
Gifting Mann's Wrapping Paper Shortstop (Field-Tested)
Team Fortress 2
Mercenary Grade Peppergun (Field-Tested)
When weapon is active:
Increase in push force taken from damage and airblast
Holds a 4-shot clip and reloads its entire clip at once.
Alt-Fire to reach and shove someone!

Mann Co.'s latest in high attitude
break-action personal defense.
The Special Delivery
The Shortstop
Mad Milk
The Holy Mackerel
The Milkman
Item Set Bonus:
Leave a Calling Card on your victims
Winter 2020 Collection
Starlight Serenity War Paint
Saccharine Striped War Paint
Frosty Delivery War Paint
Cookie Fortress War Paint
Frozen Aurora War Paint
Elfin Enamel War Paint
Smissmas Spycrabs War Paint
Gingerbread Winner War Paint
Peppermint Swirl War Paint
✔ Gifting Mann's Wrapping Paper War Paint
Glacial Glazed War Paint
Snow Globalization War Paint
Snowflake Swirled War Paint