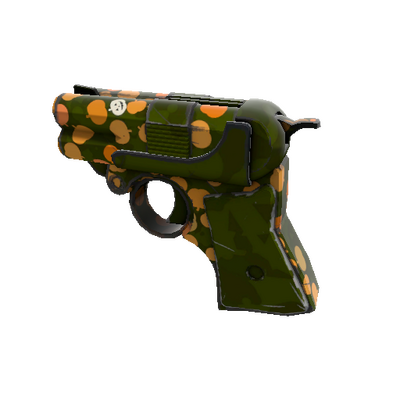 Item is missing on the STEAM marketplace.
Strange Killstreak Gourdy Green Shortstop (Minimal Wear)
Mercenary Grade Peppergun (Minimal Wear)
Strange Stat Clock Attached
Kills: 7
When weapon is active:
Killstreaks Active
Increase in push force taken from damage and airblast
Holds a 4-shot clip and reloads its entire clip at once.
Alt-Fire to reach and shove someone!

Mann Co.'s latest in high attitude
break-action personal defense.
Gift from: Nerces
Date Received: Thursday, September 8, 2022 (13:57:24) GMT
The Special Delivery
The Shortstop
Mad Milk
The Holy Mackerel
The Milkman
Item Set Bonus:
Leave a Calling Card on your victims
Scream Fortress XII Collection
Spectrum Splattered War Paint
Pumpkin Pied War Paint
Mummified Mimic War Paint
Helldriver War Paint
Sweet Toothed War Paint
Crawlspace Critters War Paint
Raving Dead War Paint
Spider's Cluster War Paint
Candy Coated War Paint
Portal Plastered War Paint
Death Deluxe War Paint
Eyestalker War Paint
✔ Gourdy Green War Paint
Spider Season War Paint
Organ-ically Hellraised War Paint
Auto-buy requests (Indicate the price for 1 item)