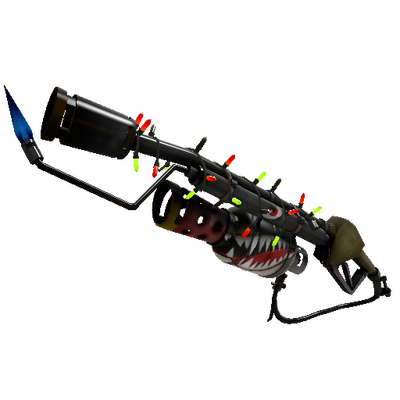 Item is missing on the STEAM marketplace.
Festivized Specialized Killstreak Warhawk Flame Thrower (Factory New)
This item name is changed to: ''УЛЬТИМАТИВНЫЙ СЖИГАТЕЛЬ ЖОП''
Assassin Grade Flame Thrower (Factory New)
Festivized
Extinguishing teammates restores 20 health
Sheen: Deadly Daffodil
Killstreaks Active
Afterburn reduces Medi Gun healing and resist shield effects.
Alt-Fire: Release a blast of air that pushes enemies and projectiles and extinguishes teammates that are on fire.
Warbird Collection
Killer Bee Scattergun
Warhawk Rocket Launcher
Warhawk Grenade Launcher
Red Bear Shotgun
✔ Warhawk Flame Thrower
Butcher Bird Minigun
Airwolf Sniper Rifle
Blitzkrieg Stickybomb Launcher
Corsair Medi Gun
Airwolf Knife
Blitzkrieg Medi Gun
Blitzkrieg Pistol
Blitzkrieg Revolver
Blitzkrieg SMG
Airwolf Wrench
Corsair Scattergun
Butcher Bird Grenade Launcher
Blitzkrieg Knife
Запросы на автопокупку (Указывать цену за 1 предмет)
Запросов на автопокупку нет