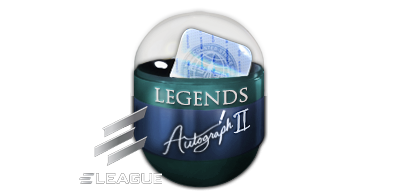 The minimal price on the Steam market 37,98 q.
Boston 2018 Attending Legends Autograph Capsule
CS:GO
Base Grade Container
This item commemorates ELEAGUE 2018 Boston CS:GO Major Championship.
This capsule contains a single High Grade, Foil, or Gold sticker autographed by one of the players from Legends teams at Boston 2018.

50% of the proceeds from the sale of this capsule support the included players and organizations.

That sticker can be applied to any weapon you own and can be scraped to look more worn. You can scrape the same sticker multiple times, making it a bit more worn each time, until it is removed from the weapon.
Container Series #242
Sticker can be autographed by one of the following professional players:
AdreN (Dauren Kystaubayev)
Dosia (Mikhail Stoliarov)
fitch (Bektiyar Bakhytov)
Hobbit (Abay Khassenov)
mou (Rustem Telepov)
device (Nicolai Reedtz)
dupreeh (Peter Rasmussen)
gla1ve (Lukas Rossander)
Kjaerbye (Markus Kjærbye)
Xyp9x (Andreas Højsleth)
byali (Pawel Bielinsky)
NEO (Filip Kubski)
pashaBiceps (Jarosław Jarząbkowski)
Snax (Janusz Pogorzelski)
TaZ (Wiktor Wojtas)
flusha (Robin Rönnquist)
Golden (Maikil Selim)
JW (Jesper Wecksell)
KRIMZ (Lars Freddy Johansson)
Lekr0 (Jonas Olofsson)
coldzera (Marcelo David)
FalleN (Gabriel Toledo)
felps (Joao Vasconcellos Cabral)
fer (Fernando Alvarenga)
TACO (Tacio Filho)
gob b (Fatih Dayik)
keev (Kevin Bartholomäus)
LEGIJA (Nikola Ninic)
nex (Johannes Maget)
tabseN (Johannes Wodarz)
aizy (Philip Aistrup Larsen)
cajunb (René Borg)
k0nfig (Kristian Wienecke)
MSL (Mathias Sommer Lauridsen)
v4lde (Valdemar Bjørn Vangså)
Запросы на автопокупку
Запросов на автопокупку нет