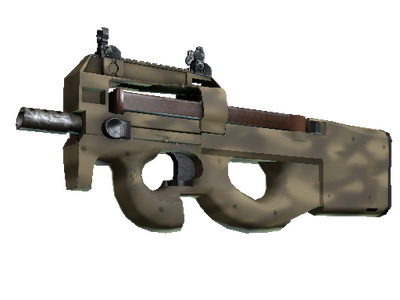 The minimal price on the Steam market 311,80 ₽.
Souvenir P90 | Sand Spray (Factory New)
CS:GO
Souvenir Consumer Grade SMG
Exterior: Factory New
This item commemorates the 2016 ESL One Cologne CS:GO Championship.
It was dropped during the Group Stage match between Astralis and Gambit Esports, and autographed by Rustem Telepov who was the most valuable player in that round.
Easily recognizable for its unique bullpup design, the P90 is a great weapon to shoot on the move due to its high-capacity magazine and low recoil. It has been spray-painted freehand with short, thick lines in contrasting colors.

Perfect for the insurgent on the go
The Dust 2 Collection





Sticker: ESL (Gold) | Cologne 2016, Astralis (Gold) | Cologne 2016, Gambit Gaming (Gold) | Cologne 2016, mou (Gold) | Cologne 2016
Auto-buy requests (Indicate the price for 1 item)