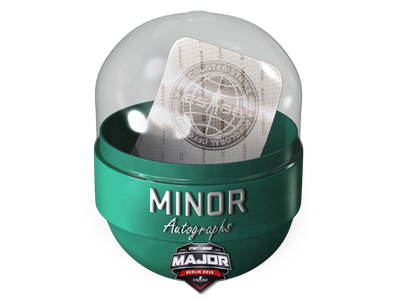 The minimal price on the Steam market 50,99 q.
Berlin 2019 Minor Challengers Autograph Capsule
CS:GO
Base Grade Container
This item commemorates the 2019 StarLadder Berlin CS:GO Championship.
This capsule contains a single High Grade, Foil, or Gold sticker autographed by one of the players from Minor Challengers teams at Berlin 2019.

That sticker can be applied to any weapon you own and can be scraped to look more worn. You can scrape the same sticker multiple times, making it a bit more worn each time, until it is removed from the weapon.
Container Series #283
Sticker can be autographed by one of the following professional players:
Sico (Simon Williams)
dexter (Christopher Nong)
erkaSt (Erdenetsogt Gantulga)
malta (Liam Schembri)
DickStacy (Oliver Tierney)
chrisJ (Chris de Jong)
karrigan (Finn Andersen)
ropz (Robin Kool)
frozen (David Cernansky)
woxic (Özgür Eker)
FL1T (Evgenii Lebedev)
Jerry (Andrey Mekrhyakov)
almazer (Almaz Asadullin)
xsepower (Bogdan Chernikov)
facecrack (Dmitriy Alekseev)
tarik (Tarik Celik)
stanislaw (Peter Jarguz)
Brehze (Vincent Cayonte)
Ethan (Ethan Arnold)
CeRq (Tsvetelin Dimitrov)
Summer (Cai Yulun)
somebody (Haowen Xu)
Attacker (Sheng Yuanzhang)
BnTeT (Hansel Ferdinand)
Freeman (Winghei Cheung)
VINI (Vinicius Figueiredo)
ableJ (Rinaldo Moda Junior)
arT (Andrei Piovezan)
KSCERATO (Kaike Cerato)
yuurih (Yuri Boian)
nexa (Nemanja Isakovic)
huNter- (Nemanja Kovac)
ottoNd (Otto Sihvo)
LETN1 (Nestor Tanic)
EspiranTo (Rokas Milasauskas)
t0rick (Maksim Zaikin)
neaLaN (Sanzhar Iskhakov)
Keoz (Nicolas Dgus)
Ramz1kBO$$ (Ramazan Bashizov)
Perfecto (Ilya Zalutskiy)
gade (Nicklas Gade)
Kjaerbye (Markus Kjærbye)
JUGi (Jakob Hansen)
aizy (Philip Aistrup Larsen)
v4lde (Valdemar Bjørn Vangså)
svyat (Sviatoslav Dovbakh)
kinqie (Semyon Lisitsyn)
Forester (Igor Bezotechesky)
Krad (Vladislav Kravchenko)
speed4k (Anton Titov)
kNgV- (Vito Giuseppe Agostinelli)
DeStiNy (Lucas Bullo De Lima)
yel (Gustavo Knittel Moreira)
chelo (Marcelo Cespedes)
xand (Alexandre Zizi)
Запросы на автопокупку (Указывать цену за 1 предмет)
Запросов на автопокупку нет