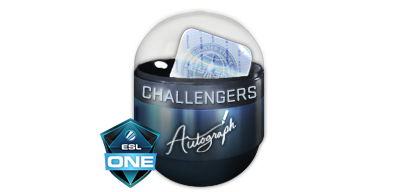 The minimal price on the Steam market 2 581,48 q.
Autograph Capsule | Challengers (Foil) | Cologne 2016
CS:GO
Base Grade Container
This item commemorates ESL One Cologne 2016 CS:GO Championship.
This capsule contains a single Foil sticker autographed by one of the players from Challengers teams at Cologne 2016.

50% of the proceeds from the sale of this capsule support the included players and organizations.

That sticker can be applied to any weapon you own and can be scraped to look more worn. You can scrape the same sticker multiple times, making it a bit more worn each time, until it is removed from the weapon.
Container Series #147
Contains one of the following:
daps (Foil) | Cologne 2016
mixwell (Foil) | Cologne 2016
NAF (Foil) | Cologne 2016
RUSH (Foil) | Cologne 2016
stanislaw (Foil) | Cologne 2016
spaze (Foil) | Cologne 2016
Dosia (Foil) | Cologne 2016
hooch (Foil) | Cologne 2016
mou (Foil) | Cologne 2016
AdreN (Foil) | Cologne 2016
B1ad3 (Foil) | Cologne 2016
wayLander (Foil) | Cologne 2016
Shara (Foil) | Cologne 2016
markeloff (Foil) | Cologne 2016
WorldEdit (Foil) | Cologne 2016
chrisJ (Foil) | Cologne 2016
denis (Foil) | Cologne 2016
Spiidi (Foil) | Cologne 2016
nex (Foil) | Cologne 2016
NiKo (Foil) | Cologne 2016
bodyy (Foil) | Cologne 2016
RpK (Foil) | Cologne 2016
ScreaM (Foil) | Cologne 2016
shox (Foil) | Cologne 2016
SmithZz (Foil) | Cologne 2016
aizy (Foil) | Cologne 2016
fox (Foil) | Cologne 2016
kioShiMa (Foil) | Cologne 2016
rain (Foil) | Cologne 2016
jkaem (Foil) | Cologne 2016
apEX (Foil) | Cologne 2016
Happy (Foil) | Cologne 2016
DEVIL (Foil) | Cologne 2016
kennyS (Foil) | Cologne 2016
NBK- (Foil) | Cologne 2016
cajunb (Foil) | Cologne 2016
MSL (Foil) | Cologne 2016
TENZKI (Foil) | Cologne 2016
RUBINO (Foil) | Cologne 2016
k0nfig (Foil) | Cologne 2016
Запросы на автопокупку (Указывать цену за 1 предмет)
Запросов на автопокупку нет