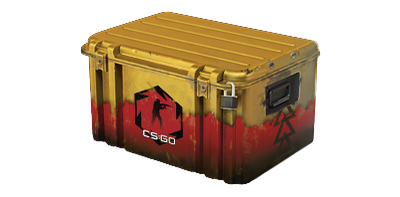 The minimal price on the Steam market 74,52 q.
Danger Zone Case
CS:GO
Base Grade Container
Container Series #259
Contains one of the following:
MP9 | Modest Threat
Glock-18 | Oxide Blaze
Nova | Wood Fired
M4A4 | Magnesium
Sawed-Off | Black Sand
SG 553 | Danger Close
Tec-9 | Fubar
G3SG1 | Scavenger
Galil AR | Signal
MAC-10 | Pipe Down
P250 | Nevermore
USP-S | Flashback
UMP-45 | Momentum
Desert Eagle | Mecha Industries
MP5-SD | Phosphor
AK-47 | Asiimov
AWP | Neo-Noir
or an Exceedingly Rare Special Item!
Auto-buy requests (Indicate the price for 1 item)
30

q

29,50

q

29

q

28,10

q

13,03

q

or less
3 pc.
2 pc.
6 pc.
1 pc.
5 pc.
The appearance of items in the list below may differ from the above. For example, items may have different names, descriptions, colors, stickers, gems. Before buying hover on the image of the item to view its full description.