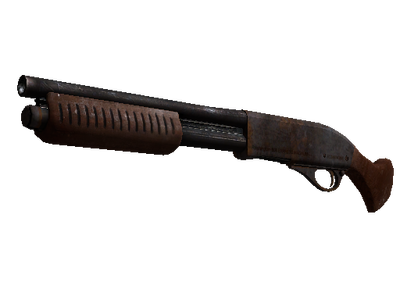 The minimal price on the Steam market 19,13 q.
Souvenir Sawed-Off | Rust Coat (Battle-Scarred)
CS:GO
Souvenir Industrial Grade Shotgun
Exterior: Battle-Scarred
This item commemorates ESL One Cologne 2015 CS:GO Championship.
It was dropped during the Semifinal match between Fnatic and Virtus.Pro, and autographed by Markus Wallsten who was the most valuable player in that round.
The classic Sawed-Off deals very heavy close-range damage, but with its low accuracy, high spread and slow rate of fire, you'd better kill what you hit. It is still perfectly operational although the exterior surfaces have rusted.

Some people don't need to hide how dirty their deeds are
The Cobblestone Collection




Sticker: Fnatic (Gold) | Cologne 2015, ESL (Gold) | Cologne 2015, pronax (Gold) | Cologne 2015