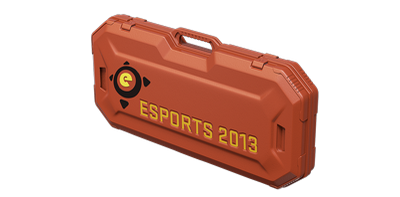 The minimal price on the Steam market 495,39 q.
eSports 2013 Case
CS:GO
Base Grade Container
A portion of the proceeds from the key used to unlock this will help support CS:GO professional tournament prize pools.
Container Series #2
Contains one of the following:
M4A4 | Faded Zebra
MAG-7 | Memento
FAMAS | Doomkitty
Galil AR | Orange DDPAT
Sawed-Off | Orange DDPAT
P250 | Splash
AK-47 | Red Laminate
AWP | BOOM
P90 | Death by Kitty
or an Exceedingly Rare Special Item!
The appearance of items in the list below may differ from the above. For example, items may have different names, descriptions, colors, stickers, gems. Before buying hover on the image of the item to view its full description.